New to World of Warcraft? Long time player who has never taken the game too seriously? Whatever makes you identify as a casual gamer, do not worry. Today we're going to look at some of the best MMO mice for casual players.
My main criteria for a mouse suitable for casual MMO gamers are affordability, ease of use and quality.
Razer Naga X Wired MMO Gaming Mouse
We're starting the list off strong with a competitive option from Razer.
the Razer Naga X is a lightweight, ergonomic and affordable mouse, jam packed with customisable features. Almost everything about this mouse is yours to change to your preference. From DPI, to bindings, to RGB.
Razer are renown in the PC gaming community for their quality products with innovative technology designed to make your gaming experience as easy as can be.
What does this mouse offer a casual player that your normal non-gaming mouse doesn't? No matter what you're doing in an MMO, being able to bind your abilities and macros to the side of your mouse so you can play 1 handed (or at least give your keyboard hand a break) is always a winner.
Another excellent reason for this mouse being in this list is that if you do transition from casual to a more serious player (or even just dabble in it) this mouse will follow you to those heights without needing to upgrade again!
Razer Naga X Wired MMO Gaming Mouse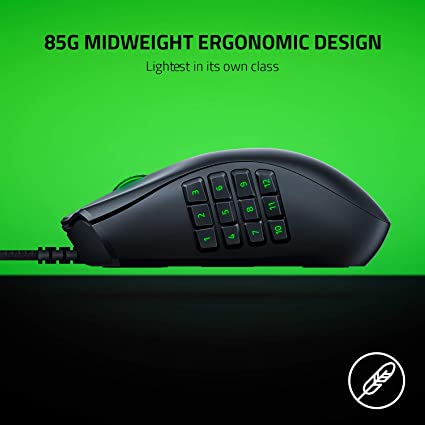 Affordable Excellence
There are few brands in the gaming world as recognised as Razer for a reason.
Lightweight (85g)
16 Programmable Buttons
5G Advanced Optical Sensor
Customisable RGB
HyperX Pulsefire Raid
The HyperX Pulsefire Raid is quite a unique mouse and much less overwhelming for a player newer to the genre and all of the extra mouse buttons. The mouse has a split-button design on the left and right click that allows you to click it and hold it how you like with just as much responsiveness on the front and back of the button.
As well as this the mouse has just a few extra buttons on the side, which is much easier to learn than the 12-16 extra buttons on most MMO mouses.
The HyperX Pulsefire Raid is lightweight and super comfortable in the hand. Featuring no-slip side grips, perfect for those who grip their mouse in the palm.
The fun doesn't stop at the PC for this mouse. It has multi-platform compatibility so you can take it to your console too!
HyperX Pulsefire Raid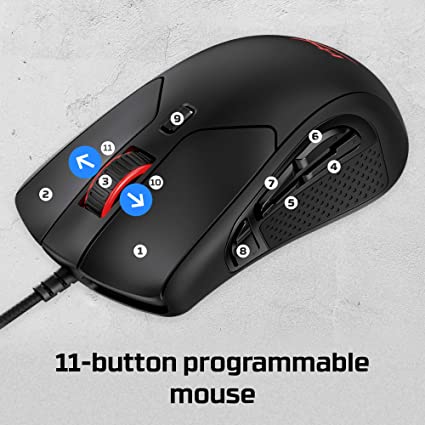 Great for in and out of MMO gaming
Ultra-lightweight with 11 programmable buttons.
Ergonomic design
Split-button design
Multi-platform compatible
Customisable RGB
Redragon M908 Impact
From Redragon we have their classic high bang to buck ratio with the Redragon M908 Impact.
This mouse has everything you could need at an affordable price-point. You can change your DPI on the fly with the 2 buttons below the scroll wheel. You have 12 side buttons to customise to your liking. You can even change the weight of this mouse with it's adjustable/removable weights. Too heavy? Take some out, Too light? Add some more.
You are also able to switch between 5 memory profiles. This is amazing for the altoholics among us, being able to switch your bindings super easily for when you change from your druid to your priest and you need different buttons/macros for that character.
Redragon M908 Impact MMO Mouse
Fantastic budget mouse
If you've seen our blog on the best budget mouse it will be no surprise to see it's little brother here on this list.
Adjustable Weight
20 Programmable buttons (12 side buttons)
Comfortable
5 memory profiles to switch bindings on the fly
Why do I need a good mouse if I'm just a casual gamer?
Just because you're a casual doesn't mean you don't deserve the ease and comfort that a gaming mouse delivers. Not only can a good mouse reduce the strain on your wrist but it can make your gaming experience so much easier and more efficient. As with anything else, spending that bit extra on a better product will also usually mean it lasts you longer. Buy cheap, buy twice.
Not only the ease of use, better quality and improved features though. If there's one thing gamers of all intensities take pride in, it's our set-ups! We want them to match our personalities and styles!