Greetings heroes of Azeroth. We hear you're looking for the best gaming headset for World of Warcraft. You've come to the right place! Nobody wants to be that guy in the discord with a crackly or quiet microphone. So we're going to break down a few of our favourite gaming headsets to suit a wide array of wants, needs and budgets. Within no time you'll know which headset will allow you to hear your raid leader shouting to get out of the fire crystal clear!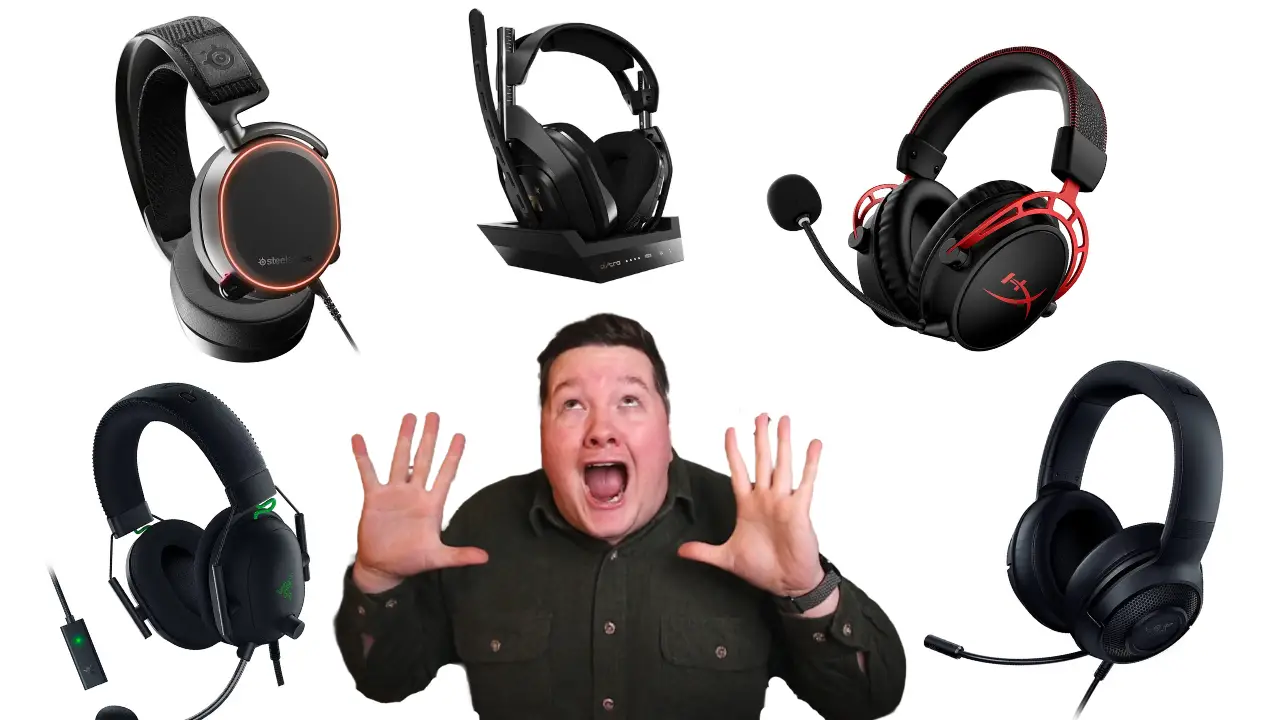 Razer Kraken X
Affordable Quality
The Razer Kraken X is a affordable headset, as far as your branded gaming headsets go. It has a no frills design, stripping back to basics. It's lightweight and comfortable which is ideal for all-day gaming. While the headset is cheaper it doesn't feel cheap, it is still a quality Razer product.
The microphone is surprisingly good and the speakers are 7.1 surround sound! The ability to make tweaks in the Razer Synapse software is also a nice touch. Don't like how something sounds? Change it! While this headset may not go toe to toe with other gaming headsets on this list, it is a fantastic budget option with great levels of comfort.
| Pros | Cons |
| --- | --- |
| Super affordable | Fixed microphone |
| Light | Out of the box the settings need some playing around with in Razer Synapse |
| 7.1 Virtual Surround sound | |
| Comfortable cushioning | |
HyperX Cloud Alpha Wireless
Wireless headset with a god-like battery life
The HyperX Cloud Alpha is an absolutely amazing choice if you are looking for a wireless gaming headset that will last you all day and then some! Depending on volume and other settings your mileage may vary BUT people have reported their batteries lasting over a week on a single charge!
If you're a gamer who likes to listen to music while you play, this is absolutely the headset for you. Music sounds incredible through this headset. The directional sound is also spot-on. While gaming you will always know where those sounds came from with crystal clear clarity.
| Pros | Cons |
| --- | --- |
| Ridiculously long battery life | Could have higher volume settings |
| Super comfy | Microphone feels like an afterthought compared to the sound quality of the headphones |
| Great audio quality for listening to music as well as gaming | |
Razer BlackShark V2 Pro
Wireless, comfortable, customisable
The Razer Blackshark V2 Pro is an amazing headset for those wanting a premium wireless experience. The headset is super-light (320g), the microphone is detachable for when you don't need to talk. The on-headset controls allow you to mute your microphone, pause/play, and turn your volume up and down all from the head-set.
The microphone uses Razer's "HyperClear Supercardioid" technologoy to provide a much more accurate recreation of your voice.
The headset has advanced passive noise cancellation which prevents distracting sounds getting through to you and allowing you to play un-interrupted. WARNING: THIS FEATURE MAY ANNOY PARTNERS AND PARENTS WHEN THEY'VE CALLED YOUR NAME FOR THE 3RD TIME.
This is the headset you want if you want amazing, immersive audio quality, no wires to tie you down and your friends hearing you crystal clear. Personally I raid-lead with this headset and I have never had an issue with people saying they cannot hear me or I am not clear enough.
| Pros | Cons |
| --- | --- |
| Full day battery life on one charge | Difficult to tell how much battery life you have left in the headset |
| Great, customisable sound and microphone settings | |
| Superb sound quality | |
| Good wireless range | |
SteelSeries Arctis Nova Pro Wireless
A true luxury headset
If you have the cash to flash for a luxury headset, turn your eyes to the SteelSeries Arctis Nova Pro wireless. The headset has active noise cancellation and a noise cancelling mic which I would deem absolutely essential for online gaming. The battery boasts an impressive 20 hours of use per full charge but with the ability to swap out your battery and never have to wait!
The audio is clean and clear with some impressive bass which is great for anything you could be using the headset for.
A real stand-out feature for this headset is the ability to connect it to two devices AT ONCE. Let your imagination run wild with that one. Phone and PC at the same time? no problem. Xbox and PC at the same time? go for it! While it may not be in the price-range of everyone, you certainly do get what you pay for.
| Pros | Cons |
| --- | --- |
| Noise cancelling | Expensive |
| Phenomenal audio quality | Noise cancellation isn't perfect |
| Comfortable | |
| Multi-connectivity (including Bluetooth) | |
| Great right out of the box, with the option to tune it to how you like | |
Astro A50 Gen 4
Compatibility for the gamer who plays it all
The Astro A50 Gen 4 has a super edgy aesthetic, almost futuristic, with sharp edges and an almost aerodynamic look. This aesthetic design isn't for everyone but for those it is, they're gonna be super happy with it. The headset also comes with Dolby Audio, which if you're not familiar with is amazing.
This device also comes with its own charging dock that is effortless to swap your headset into when it needs a charge.
The reason this headset made the list is for its versatility. This headset is for those of us who game on many different devices. The Astro A50 Gen 4 can connect to Playstation, Xbox and PC. So why waste your money buying a different headset for each of your devices when you can have one headset to rule them all. The only thing you do need to connect it to the new-gen of consoles is the appropriate base stations.
| Pros | Cons |
| --- | --- |
| Comfortable and breathable | Pricey |
| Usable with PlayStation, Xbox, PC and mobile! | Aesthetic design isn't for everyone |
| Dolby Audio | |
Closing Words
We tried to include a wide range of headsets for different needs and budgets, though we may have missed your favourite! Let us know in the comments a gaming headset you'd like to see reviewed and maybe you'll see it in our next or updated list!